Location: Hong Kong, China // Prof. Albert Pope // Rice School of Architecture, Spring 2015 // In collaboration with Elizabeth Jones

On the outskirts of Hong Kong lies Sha Tin; a New Town masterplanned and developed by AECOM between the 1970s–1980s in the reclaimed delta of the Shing Mun River. Home to 750,000 people, Sha Tin takes urban form in the aggregation of disassociated multi-tower housing estates — the most prevalent housing type in Hong Kong. The Shing Mun River serves as an organizing void for Sha Tin, where the north bank is more typically mixed-use due to its location en route between Mainland China and the rest of Hong Kong whilst the south bank is only accessed by local residents. This project is situated in Tai Wai South at the southernmost edge of Sha Tin beyond the organizing void of the river. There are two MTR stations in Tai Wai South with a third currently under construction.


In the context of Hong Kong, transit infrastructure and new developments are intertwined. The introduction of a new station in Tai Wai South not only indicates a need and a sufficient existing population to support it, but also signals that the immediate context has potential to support additional growth. Our proposal creates a development logic for a New District around a central public axis as a statement to break away from current development patterns and design a cohesive organizational structure in which estates can associate with one another. Specifically, our 12,000-unit estate is designed to be the first of such expansion up the foothills of Tai Wai South.

Our new district is split into quadrants that naturally divide into 200' wide terraces that continue across all four quadrants in order to negotiate the sloped terrain and relate estates across the central void. Within our estate, the terraces are characterized as either "garden" or "urban". Garden bands prioritize the relationship to the natural environment whilst the urban condition prioritizes public program and pockets of density.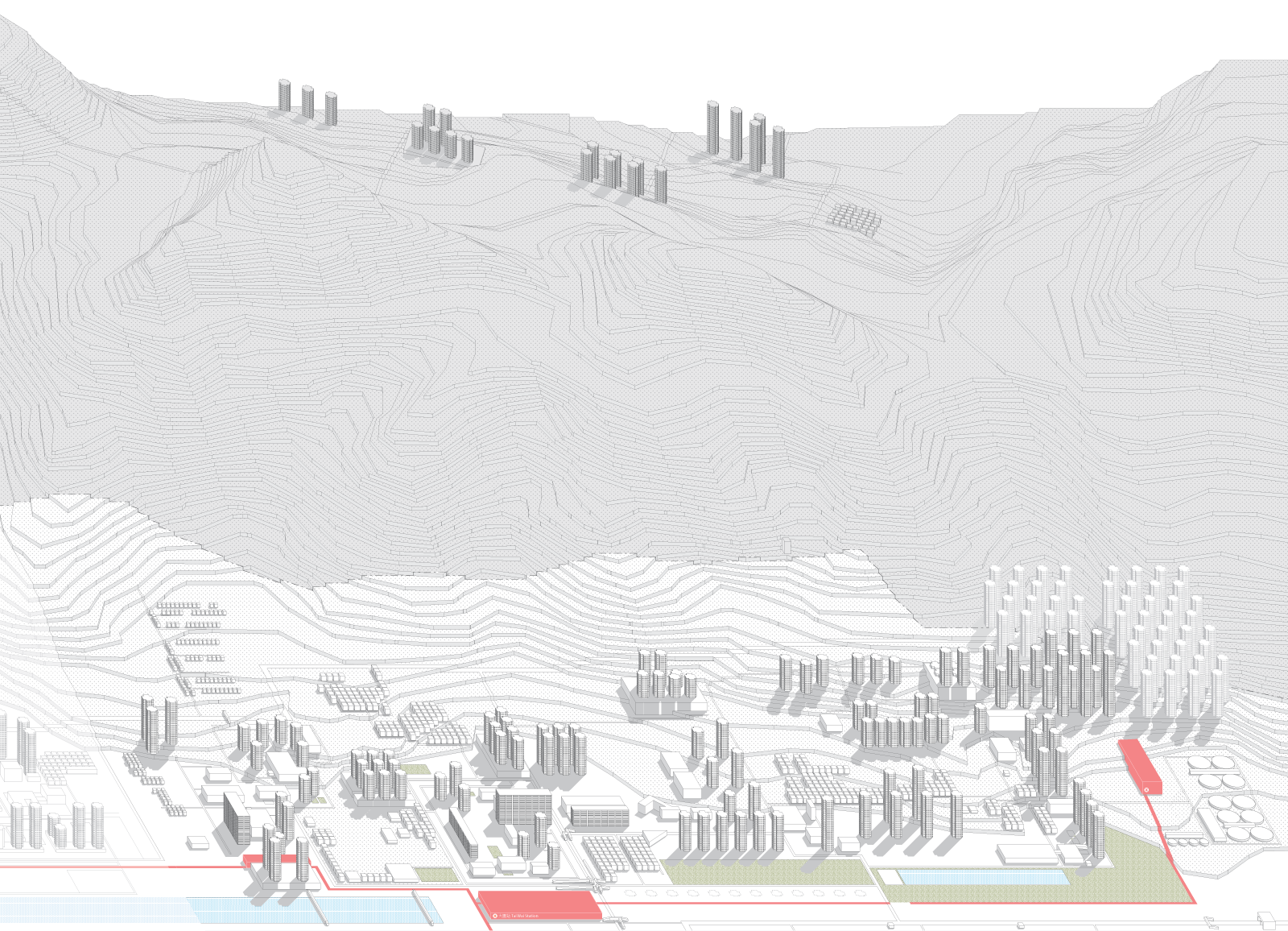 Last Updated: August 2019